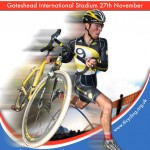 What a bang the NECCL WINTER 2010/11 Series went out with, there was 70 people turned upto the Presentation Night at Bowburn Hall where all the 58 riders who finished the League all recieved cash/prizes. We paid out over £1500 worth on the night and no one went away empty handed. Last season has been the best for CX in the NE, we ave 86 riders per round over an 8 event series, ave £100 prizes per event & 21no Free race entry vouchers dished out. As you may have noticed we have not published our 2011/2012 Winter Series dates yet on the web because we are having probs with the 'other half' double booking our dates and flooding the season. So you may well see some clashes which is not what we want for us or you as a rider but have not been left with any option. On the plus side though we are still the cheapest CX racing in the NE/UK with main race still a FIVER !! and U14/16 £3 & U12 FREE and every rider that completes the League will be recieve cash/prize at the end, not just 1st place in each category. Most of the 58 riders who qualified in the League had a complety free race season after they recieved there cash prize. Also all our events will be based in the NE keeping to its true roots and tradition so you dont have to drive over 200miles round trip to race for 50mins.
There will be 4no events in the Autumn Starting on 17th Aug followed by 8no events in the Winter and we also have the TLI NAT CX CHAMPS in the region @ Gateshead Stadium on 27th Nov .
On the note of the Autumn Series here are some stats from 2010/11 Series – 248 finished, ave 62 riders per event, 107 individual riders, 42 finished the League and all of them went away with a prize.