NECCL WINTER SERIES 12-13 Rd 1 Sun 9th Sept @ Woodham Community College, Newton Aycliffe.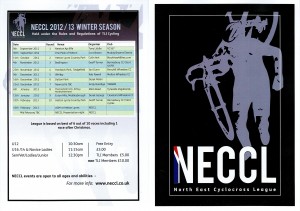 ** update ** Its going to be sunny and red hot so take your sun tan cream and plenty to drink. 22 degress during the main race! Make the most of it while you can. This is a new venue for CX and will be a fantastic start to a new season of racing within the NE. There will be three races on the day for all ages and abilities on any type of offroad bike. Registration is on the day so turn up early with a few £'s in your pocket. Full details are in the Events Info section to your right.  There is an increase in number of cash priIzes we pay out on the day this season to 16no. Directions-turn off the A167 (North or South), onto the B6443 (opposite Aycliffe School). Turn right into Washington Crescent (two entrances), and follow road  around until Wolsey Close (signpost for Woodham College). Turn in and then left through college gates. Address / post code is:- Woodham CTC, Washington Crescent, Newton Aycliffe, Co. Durham. DL5 4AX. Many thanks to Tony Liddle VC167 for organising the event.
U12's 10.30am Free 10-15mins
U14/16's/Novice Lady 11.15am £3 30mins
Sen/Vet/Lady/Jun 12.30pm £5 memebrs, £10 non members 50-60min
Best 6 from 10 inc minimum 1 round after Christmas to count for overall league prizes/standing.