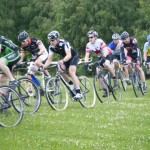 Update – forecast is looking fantastic with sunshine & 15 degrees, come on have a day out and enjoy the fresh air and get a sweat on! Cheapest CX racing in the UK and 13 cash prizes on the day.
Yes Rd3 is this Sunday @ Whickham Thorns Activity Centre, Gateshead. Three races on the day for ages and abilities, all are welcome and just enter on the day. Full Event info is in the EVENT INFO Section inc directions, maps, etc this is a fantastic venue with loads of things for all ages to do inc the Wife's / Girlfriends to go shopping at the Metro Centre less than a mile away.
NECCL WINTER SERIES RD4 @ Eston Hills Middlesbrough, Sunday 6th Nov 2011.