It was the last Nutcracker of the 2010 Series on Sunday @ Hamsterley Forest. Alex had a great little course for all the Sweatmonsters check out the photos here http://picasaweb.google.com/scotbrown1/NutcrackerRd6Hamsterley whilst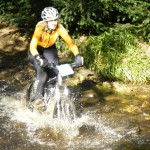 the adults were giving themselves a good beasting around a more testing longer course inc the old Hamsterley Hammer ford crossing ! great day out and some lovely sun but chilly in the wind.
Northern Downhill Championships Final @ Kielder on Sun Oct 24th. They will be using part of the black rated Deadwater Trail, which is a really tough challenge, especially when you are racing against the clock . "The very quickest will be aiming to complete a run in about two minutes and 40 seconds, which takes a fair dollop of skill and courage said organiser Carl Davison".
Also if you havent heard that Kudu Bikes in Hawes has 'closed down for good' last week so any riders out there in the NE who recieved any Gift Vouchers as prizes from any races you may have a hard job spending them! Times are hard out there so please support your LBS when you can