Race Report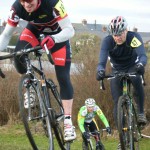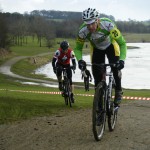 Well what a cracking Grand Final was had by all, with nearly 90 riders on the day competing for there last few points to sort out their Final League positions. It was a Grand day with a fantastic course with mixed terrain of climbs, downhills, fast tarmac sections and some singletrack through the woods. Riders and bikes were clean considering the recent thaw but the Lake was still frozen. The weather remained dry for all three races and even the sun popped out during the main race. As for the Results well there was a great battle between Adam Martin & Steven Ward for 1st & 2nd place but on the last lap Stevens race skills came into there own and beat Adam by just under a minute. Malcolm Lewis held 3 rd for the whole race. First Vet was visitor Pete Wilkin and 1st Lady was Pam Glover who had a great final ride to the season.
In the U16/14 race William Brown again took the title and there was some great battles for 4th & 5th place between James Edmond & Alex Harris.
In the U12 Thomas was again battling with Matthew Worton who has had a great end to the season and went down to sprint finish with Thomas beating him on the line. Again there was many battles for position during the race with another Sprint finish involving Angus Brown & Fin Robertson.
Many thanks must go to Dave McLean and all the many helpers on the day inc the Hetton Hawks Ladies for the refreshments. Also a thank you to Sunderland Council / Springboard for use of the venue.
Results are in the Results Section
Photos are in the Gallery
Final League Tables are in the Results Section (Provisional)
Presentation Night @ Bowburn Hall Hotel Wednesday 24th Feb 2010
Winter 2010/2011 Series details are in the Winter Series Section Now