Race Report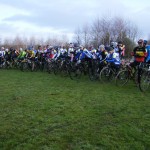 This a new venue for Cyclo X racing and there was plenty of riders (over 70 !) to take on the new mixed terrain. Well what a differnece 48hrs makes with all the snow melted and only patches of ice left where the sun never sees made the course rideable. The planned course had to be altered on the day as the all the melted snow had to go somewhere ! Alot of hard work had been put in on morning to get two courses set out and and safe to use.
The U12's was mainly based around the BMX track area which they loved including a testing climb out the back. Matthew Worton took the houors today with Thomas Mein following on and Emma Brady taking 1st Girl.
Next up was the U16/14's race which was the full Sen course so they had to work extra hard to burn off the Christmas chocs etc. Alex Hopper won with Joe Brown taking 2nd.
In the main race the going was tough on the bike / body and terrain finished off a few bikes and bodies but Tony Fawcett took the led from lap one and had a clear win over Darren Binks followed by Tony Glover. Rob Smith pulled up a few places to take 1st Vet. As for the Juniors it was a great battle from the start with Ian Lee just beating William Brown, they both had a fantastic race. Pam Glover took the Ladies win.
Many thanks must got to Tony/Pam Glover, John Mein, Jamie Brady, Alan Taylor and all the other helpers from Derwentside CC. A big thank you must also got to Whickham Thorns Centre / Gateshead Council for the use of the land / facilities on the day. We hope to return again next season.
Next Sun 24th Jan is the Grand Final at Hetton Lyons followed by the AGM
Photos are in the gallery
Results are in the Results section now