NECCL Rd 7 Hetton Lyons Country Park, Hetton Le Hole. Sun20th Dec 09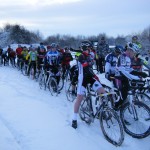 Well words or photos just dont do the setting at Hetton Lyons today justice. What a winter wonderland setting for the Christams Round. Nearly 55 riders turned out on the day to test their snow riding skills to the max. The U12's raced on a new circuit set out by Jamie Brady & Dave McLean. The U16/14's raced on the full sen circuit which was an altered version of Rd 1 planned by Tony Glover.
The kids had the most fun on the day but not on their bikes but making snowmen, sledging on the bmx track and of course snaowballing the adults !
The only thing missing was some Swiss Cowbells at the finishline.
Many thanks must got to Tony Glover, Dave McLean, Jamie Brady, Rob (from Trihard) and the Hetton Hawks ladies for the Festive Refreshments.
There was 12no cash prizes on the day and goodies for all the U16/14/12's as well. 3no Free Race Entry Vouchers were also awarded for Rd 8 at Whickham Thorns on Sun 20th Jan 2010.