NECCL RACE REPORT. ROUND 6- 13th Dec 09, Sports Centre, Meadowfield, Co Durham.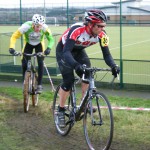 This round of the Winter Season was based within the grounds of the Sports Centre at Meadowfield and 75 riders were having a great battle for a few extra points to count towards their league positions. The course was a mix of downhill, climbing, off camber corners and flat sections. There was one section of singletrack through the woods and a few technical sections on the banks next to the all weather pitch / gable end of sports centre. The weather was cloudy but dry for the U12's & U14/16's race and the sun even came out briefly for the main race at 12.30pm. The course had to altered in a few places and some faster tarmac / gravel sections added as the field was a little soft in places due to the recent weather. The course held up very well considering and there was only a few softish sections to negotiate.
There was spot prizes for all the races which were sponsored by RINGLAND SCAFFOLDING & WESTBROOK CYCLES. The event was also supported by Durham County Council. Also presented on the day was 12no cash prizes & 3no Free Race Entry Vouchers for Rd 7 at Hetton Lyons on Sun 20th Dec 09. All the U12/14/16's received a goodie bag as well.
Many thanks to Trevor Sharp, Richard Barnett & Ian Dunn for their assistance in setting out / altering the course and taking it all back in, without them this round would have not gone ahead.
Remember it is your best 6 from 9 rounds to finish the League inc min 1 after Christmas.