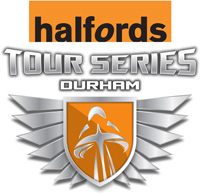 There will be pro's coming to take on the challenge of the hilly cobbled streets of Durham on Thursday 27th May @ 7.00pm. It is a short lap so there will be plenty of spectating during the race.  I would suggest a viewing point on the cobbled uphill as that will probably be the slowest point or on the hairpin right corner near to the Halifax Building Society
More info here – http://www.tourseries.co.uk/RoundInfo.asp?Round=DURHAM&Id=183
Route map here – http://www.tourseries.co.uk/CircuitMaps/Durham.pdf
I will be there with camera so will upload a Gallery of the evenings action and a event report.
Some of the greatest road and track cycle racing talent is to battle it out through the historic streets of Durham in a bid to be crowned the UK's champion team.Olympic, Commonwealth Games and elite national riders will come to the city for the first time on Thursday, May 27, for the second round of the televised 2010 Halfords Tour Series. Durham is one of 10 cities chosen to host the evening races which start at 7pm and the ride will be broadcast as live on ITV4 at 7pm the following evening. On each night of the tour, which kicks off at London's Canary Wharf on May 25, teams will compete in a thrill-filled hour of intense, high octane, attacking racing. At 15-minute intervals, the peleton will also contest three sprints in the Series' Sprint Competition sponsored by Boardman Bikes. Durham has its own team – Endura Racing – competing throughout the 10 rounds captained by three-time Olympic medallist Rob Hayles, who also captained last year's winning team. The free event, which is supported by Durham County Council starts and finishes at which is hosting the cyclists. The circuit takes in Margery Lane, Crossgate, South Street, and Grove Street and is particularly difficult with cobbles, steep hills and very sharp bends more in keeping with Continental rather than UK circuits. Good vantage points will be the climb up South Street, the finishing straight on towards Grove Street towards Durham School, and at the top of Crossgate Bank near The Elm Tree and The Angel public houses.
 Cllr Simon Henig, Leader of Durham County Council, said: "To host this dynamic series of races is another indication of 's growing national profile as a visitor destination. "It's a fantastic opportunity to have such a spectacular event, which we hope will inspire champions of the future, in the city streets, while at the same time it will showcase Durham and its superb cultural offer to a prime time national television audience. "The event not only promotes sustainable transport which is one of our key aims but will be a significant boost to the local economy," he said.
 Hugh Roberts, Chief Executive of The Halfords Tour Series said: "We are delighted to bring the Halfords Tour Series to Durham in 2010. Durham has provided us with a fantastic and challenging course that will test all the teams taking part in the event this year. We are positive that this will help generate a real buzz amongst all the spectators on the evening of the race. "We have enjoyed working closely with Durham to put on what I'm sure will be a fantastic event on the May 27."
 Riders will warm up from 6pm and be available for autographs and photographs at the race podium. Race goers are advised to use the Park and Ride at Howlands, Sniperley or Belmont which will be open until 10pm or park at County Hall after 4pm.  City centre streets will be closed for the race and car parks will be busy because of Durham Mystery Plays performances.