First time the Marathon series has hit the Yorkshire Dales and base camp was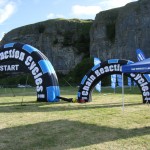 at Kilnsey, a small village just outside Grassington with a pub less than 5mins walk away! There was 4 different routes on offer all starting at 10.00am and heading off up the first hill of the day, followed by a short downhill then up another bigish climb over the moors. The descent from that down the road again was fantastic and very quick, alittle too quick for some ! from their riders split up depending upon what distance they were doing. The event was very well marshalled & sign posted, T shirt isnt too bad either! not to mention the goodie bags!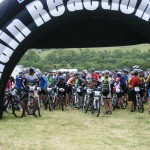 As for the weather what a weekend of two halfs with the Saturday hot & sunny with a strongish wind upto early evening then on the Sunday dry to start with a gentle breeze but come dinnertime it was pouring down and you could hardly stand up.
Some photos are here http://picasaweb.google.com/scotbrown1/CRCMTBMartahonGrassington was intending to take many more action shots on the fells but by the time we got back and changed it was too wet & windy to head into the hills again, sorry.
The next round is at Selkirk with the Road Sportives on the Sat 31st July and MTB Marathons on the Sun 1st Aug, all the info here http://www.mtb-marathon.co.uk/events/selkirk.php (probably the best one, I only say that because I enjoy the weekend of riding up there every year!)